30 lb. Pork Package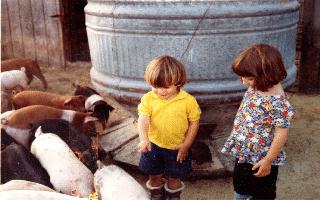 | Quantity | Item |
| --- | --- |
| 16 | 8oz. Pork Chops |
| 4 | 12 oz. Ham Steaks |
| 4 | 1 lb. pkgs. Bacon |
| 1 | 4 lb. Ham Roast |
| 1 | 4 lb. Pork Roast |
| 1 | 1.5 lb. pkg. Ribs |
| 6 | 1.25 lb. pkgs. of Ground Pork* |
*Choice of unseasoned bulk, breakfast links, bratwurst, hot or mild Italian sausage links.

Price $165.00

Weights of cuts are approximate, but the package total will equal 30 lbs. Number of cuts may vary to reach that weight. Sides and whole animals are also available. Call for pricing and cutting options.

EXTRA GROUND MEAT AVAILABLE:

Italian Sausage - Hot or Mild.......$6.80/lb.
Bratwurst or Breakfast Links.......$6.80/lb.
Ground Pork.........................$5.25/lb.

Our hogs are raised outside with free access to sunshine, fresh air, & shelter. Animal by-products, antibiotics, and artificial growth promotants are not used. No water is added to any of the cuts. The ground pork products do not contain preservatives or nitrites, and only seasonings with natural spices are used. The ground meats have a fine flavor and don't shrink away when cooked.