25 lb. Beef Package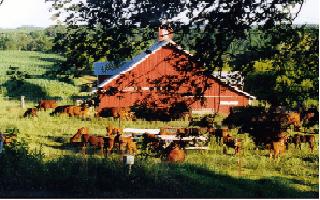 | Quantity | Item |
| --- | --- |
| 2 | 10 oz. Rib Eye Steaks |
| 2 | 16 oz. Porterhouse Steak |
| 2 | 16 oz. T-Bone Steaks |
| 2 | 12 oz. Sirloin Steaks |
| 1 | 32 oz. Round Steak |
| 1 | 24 oz. Cubed Steak |
| 1 | 4 lb. Chuck Roast |
| 9 | 1 lb. pkgs. 90% Lean Hamburger |
| 1 | 1.75 lb. pkg. Short Ribs |
Price $200.00

(Liver Available Upon Request $5.50 per pound)

Weights of cuts are approximate, but the package total will equal 25 pounds. Number of cuts may vary to reach that weight. Beef sides, quarters, & whole animals are also available. Call for pricing and cutting options.

Additional Lean Ground Beef:
1 lb. to 9 lbs............$6.50 per pound
10lbs. to 19lbs.........$6.35 per pound
20lbs. or more.........$6.20 per pound

Our Angus-Hereford cross beef animals are born on lush green spring pasture and rotationally grazed through the growing season. We use no hormones, growth promotants, or animal by-products, and finish them out on an antibiotic-free diet of non-GMO ground corn, organic hay, organic oats, and free choice salt and minerals. We think you will be delighted at the fine flavor of our beef.

Ask about our grass finished beef sides, packages, and cuts.